Purpose
Care Plans form the basis of all care delivery. The purpose of Plans is to convey information about the individual resident. This will often be over-arching knowledge to facilitate the delivery of care and support through specific tasks.
By using Plans in Sekoia, this knowledge and information becomes easily accessible, making it easier for employees to access these when needed. This assures employees that they have the information they require at hand and also allows them a wider perspective, on why this support is important for the resident. Furthermore, it allows them to feedback their own knowledge to the management/whoever is responsible for updating the care plan. This constructs an effective evaluation loop and ensures that the care plan is being used as a live working document at point of care, as intended.
Potential use
To bring the Care Plans out of an office setting and live at point of care.

Easier to convey important information and knowledge about the individual resident and organisation.

To ensure updates can be made and disseminated in a quick and efficient way.

To ensure all frontline staff are included in the care planning process by actively obtaining their feedback.

Strengthen the working environment as knowledge is easily accessible and more likely to be updated.

Possibility to ensure common language and common understanding of the resident and organisation.
Creating 'Categories' of Care Plans:
In the picture below is demonstrated where you build your Care Plan Framework, which can be based on an existing template or one that you create when choosing Sekoia. The environment enables you to create various tiers of Categories and sub-categories of Plans to structure your knowledge in a succinct and organised way.
Adding/Personalising Plans for Individual service-users:
In the picture below it is demonstrated, where you are able to add and personalise plans for individual service users via a free text box. This is also where you are able to set review dates for care plans, that will serve as a reminder when due. Once populated, and assuming the resident is active on the system, these care plans will immediately reflect on the devices, and be accessible for all frontline staff working at point of care.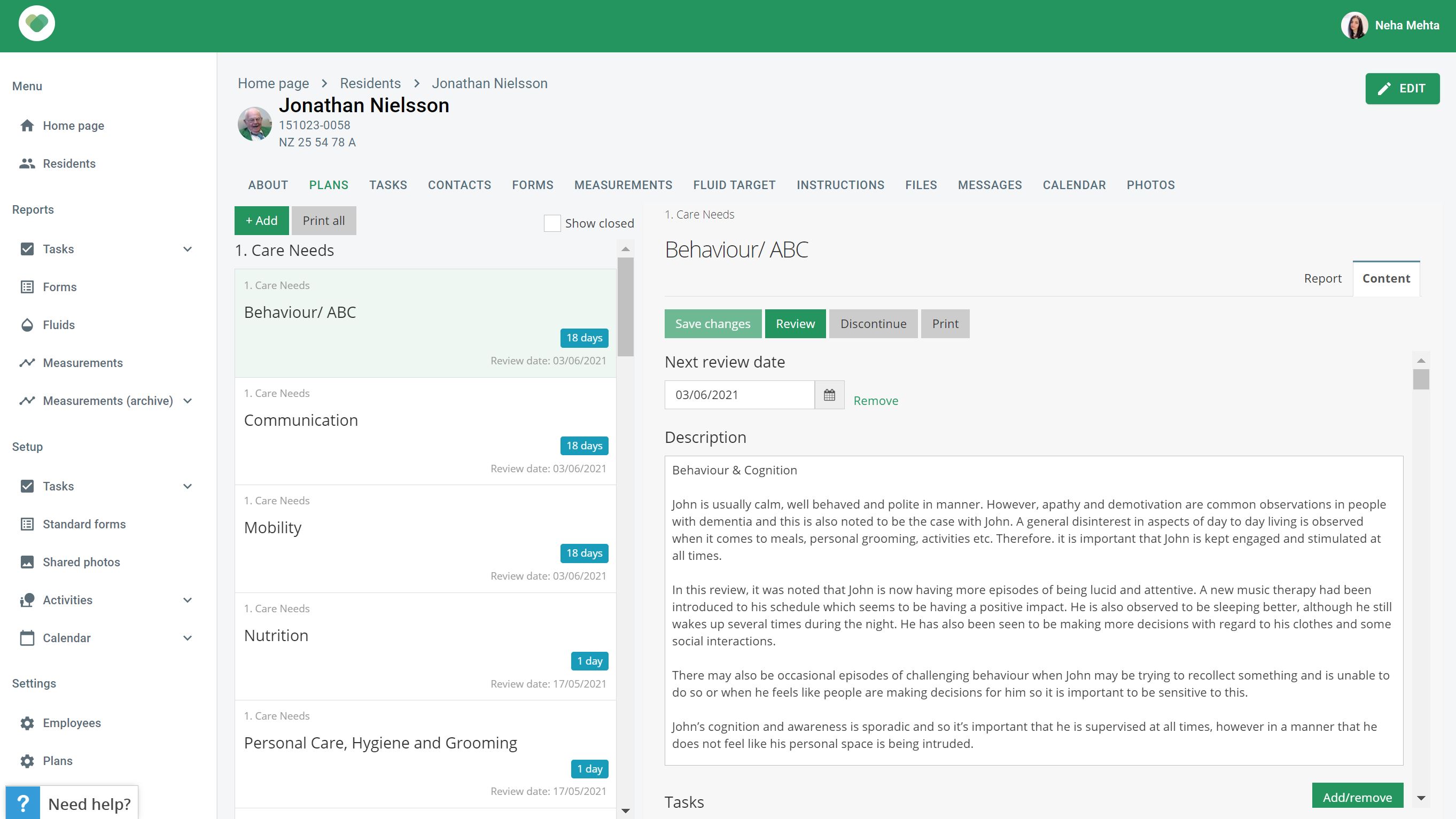 Creating Tags between Plans, Tasks and Forms & accessing Review notes:
In the picture below it is demonstrated where below the main body of the Care Plan, you are able to tag relevant Tasks to a Plan. This serves to ensure that the said Care Plan reflects alongside that Task on the device, so staff have access to this additional information, when and where needed.
You are also able to Tag Forms to Plans, which has no bearing on the front-end, however it facilitates collective reporting in the Administration.
Sitting below this is a history of all of the past evaluations/reviews carried out on the Care Plan. All actions are name and time stamped for auditing and accountability purposes.